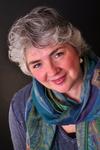 About Trish McDonald; a Registered Nurse of many years and experiences as well as a Reiki Master, Yoga Instructor and Yoga Therapist.
For well over 25 years, yoga has been a passion of mine. I have completed over 500 hours of yoga teacher training and am a Registered and Certified Yoga Instructor through Yoga Alliance. I have also completed my Yoga Therapy Certification with

Yoga Mountain

, in New York, where we view yoga as the "art of gentle persistence".
Yoga is for everyone

from athlete to couch potato, old and young. I have worked with students privately as well as in fitness centers, hospitals, adult facilities, senior centers, nursery schools, and park and rec's.
Reiki is for everyone too; a complementary, non-invasive therapy to provide balance and relaxation. Since 2000 I have been teaching and practicing Reiki with both people and their animal companions.

Reiki, as well as other energetic healing modalities I have studied, is wonderful to work with. Besides the peace and relaxation a private session provides to individuals or their special companions, Reiki can "cleanse" rooms, homes, literally any spaces or objects - spreading a sense of peace, calm, and wholeness.
Along with Reiki and Yoga, I love to play with crystals, aromatherapy oils, and flower essences. I provide both private and group meditations, guided meditations and relaxations. The changes they invoke are a wonder to behold.
This work fills me with joy and awe. I am happy to accommodate all populations.
A small horse farm in Newtown is where my family and I call home.
Upcoming classes:
check our website or meetup for class info.

CONTACT: Please email This e-mail address is being protected from spambots. You need JavaScript enabled to view it or trinity@trinity production.org